Looking in the mirror can be daunting when you don't feel happy with your reflection. From issues like acne which can take a toll on your self-confidence and result in you spending copious amounts of money of every cleanser out there on the market to ageing where you begin to notice the loss of elasticity in your skin and more lines are starting to appear on your face.
i-Pixel laser treatment is a revolutionary laser treatment that resolves several skin issues with minimal pain and recovery time. It is designed to stimulate collagen production in the skin, resurfacing it with a fresh layer of healthy, vibrant and youthful skin.
What is i-Pixel laser treatment?
Laser skin resurfacing treatments are popular and well sought out procedure after because of the level of precision and effectiveness of them that leave the skin looking younger.
I-Pixel is a type of skin resurfacing treatment that works by stimulating the collagen within the skin to regenerate itself. Essentially, it painlessly damages the interior layers of the skin and prompts the body to repair them. So, unlike older forms of skin resurfacing which attacked the outer layer, the laser impacts deep inside and leaves few visible signs beyond the rejuvenating glow of healthy skin beginning to regenerate.
During the procedure, multiple lasers that are fractionated by optics are targeted to a selected area of skin in a 7×7 or 9×9 pattern. The lasers penetrate the upper dermis and epidermis which creates an area called pixels, which are microscopic heat injured zones in an area of 11×11 millimetres. The penetration depth depends on how many pulses are stacked, this can vary between 20-350 microns deep.
The procedure is a fractional skin resurfacing treatment that is used to treat skin damage due to sun damage, epidermal melasma, scars, acne scarring, skin laxity, fine lines and wrinkles and other skin irregularities.
This method of laser treatment is a pioneer compared to traditional methods within the industry thanks to the minimal recovery downtime after each session. It uses a combination of laser therapy and non-ablative laser methods which is why it is considered to be a gentler treatment in comparison to traditional laser therapy. It can also be done in combination with other treatments that you wish to have so you can maximise your results.
It's highly effective in rejuvenating your skin. It reduces the signs of ageing, leaving you with healthier, glowing skin.
What is so special about fractional laser treatment?
The treatment only focuses on a fraction of your face as opposed to chemical peels that impact your face as a whole.
Understandably, with life commitments you may be able to afford the treatment but not able to afford the time to take off work, school, other life commitments for your skin to fully recover.

That is why i-Pixel laser treatment works well for those who want a skin treatment where they can heal in a shorter downtime. I-Pixel works by targeting the interior layer of the skin, so you don't get many of the visible side-effects that were previously associated with skin resurfacing. I-Pixel comes with all the great benefits of laser skin resurfacing technology without any visible signs.
The variety of issues that i-Pixel can address makes it one of the more versatile procedures on the market, and that means that our London based therapists are well-versed in delivering it to the high quality we expect of them.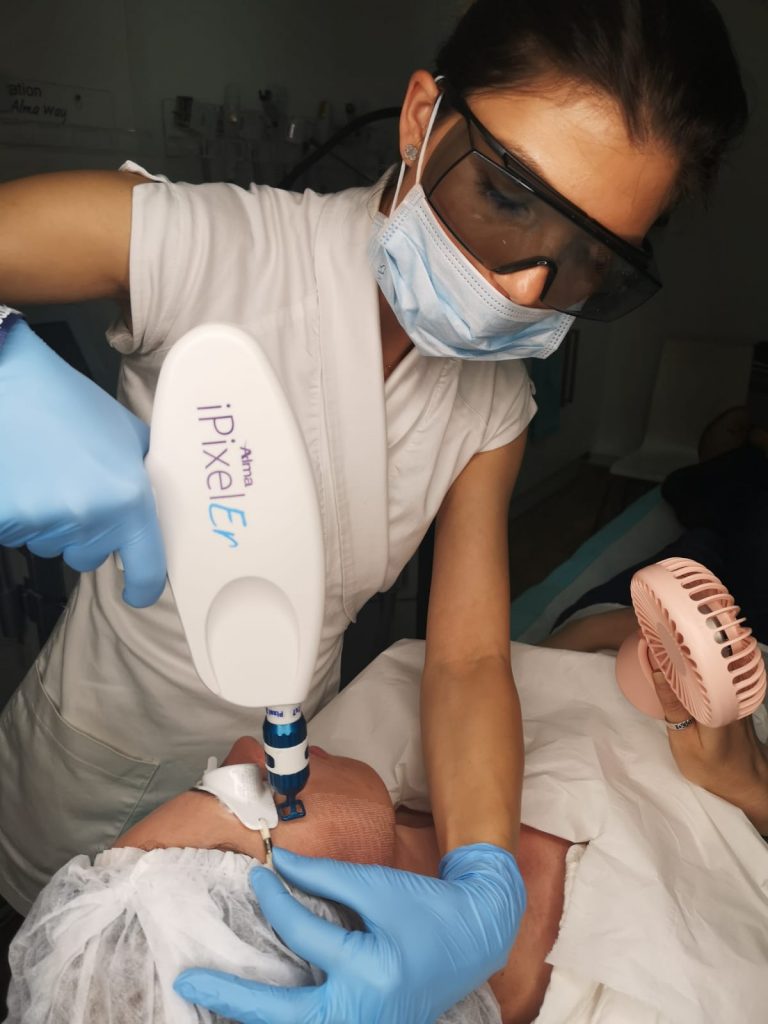 What should I expect during the treatment?
No anaesthesia is required as you won't be in excruciating pain and you will have to wear protective goggles to protect your eyes from the laser.
Lead practitioner Eleonora Androva explains "The client expects to have skin resurfacing, meaning changing of the epidermis of the skin, improving dramatically fine lines and wrinkles, acne scars, acne. Pigmentation usually is very superficial and will go after 1 to 2 sessions."
How much is i-Pixel laser treatment?
If you want to get the treatment on your face or on your body (20cm x 20cm area) – It costs £400 for one session, and for three sessions it costs £1,020 and £1,920 for six sessions.
What happens afterwards?
Your therapist at our London based clinic will advise you on what steps you need to take immediately following the procedure and between sessions. It's important that you follow their advice and look after your skin carefully.
This helps to avoid any pigmentation or scarring, ensuring that you get the most out of the treatment and that the results are as long-lasting as you hope.

Healing usually takes place between 10 to 21 days, however, this is dependant on the issue that was attended to.
In addition, consider the following:
– You must use SPF 50 every day following your treatment and avoid sun exposure wherever possible. It's recommended you limit your time in the sun, if you are outdoors, reapply sunscreen to your skin every two hours.
– Keep away from heat including UV lights
– Treat your skin with the suggested moisturiser

Once your skin has healed, you can wear oil-free makeup to minimise redness which fades in two to three months.
What our customers have to say?
Ben Yuan said of his experience at Dermacure clinic "I was offered a treatment plan which was a three-session of combination treatments by I-Pixel laser skin resurfacing and ClearLift skin tightening with Harmony Pro laser, a laser used by an only advanced skincare laser clinic.
I had my first session in early September and I am really pleased with the overall result. The scars have been less visible and the lines are also improved. I am looking forward to furthering and better results."
Is i-Pixel the right treatment for you?
You'll need to undertake a full consultation with our team but, generally, I-Pixel Skin Resurfacing is suitable for both men and women wanting to rejuvenate their skin.
As with all treatments, it's important to understand what skin resurfacing entails, and our dedicated team will explain everything and answer all your questions. If you're searching for a rapid procedure with long-lasting results, this could be the solution for you.
Call us on 0207 935 3405 or fill out our enquiry form here to book your first consultation.