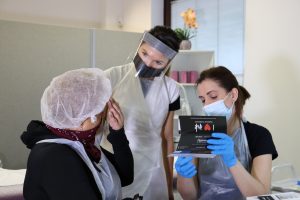 Celebrities and influencers flaunting "#nomakeup" "#barefaced" looks with sculpted eyebrows that leave us wondering if they're really not wearing makeup? Well, they've probably had them microbladed!
So what actually IS microblading? 
Microblading is the tattooing of a semi-permanent eyebrow shape that is best suited to the individual's face. Offering clients the illusion of fuller, fluffier and perfectly shaped brows. The semi-permanent nature of the tattooing means that the device used doesn't penetrate as deep into the skin. Unlike the equipment used when creating a permanent tattoo. Rather microblading focuses just on the epidermis layer (simply, the outermost layer of the three layers that make up our skin). 
Brow trends have changed over the years and now that fuller, laminated brows are in fashion. It's no surprise that everyone is rushing to fill in those gaps left by tweezers with some microblading! 
[blog_cta]
The Importance Of A Professional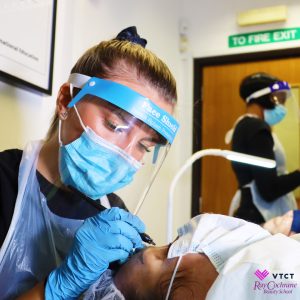 Firstly, it is important to understand as with any skin tattoos it is imperative to have it done by a professional! If the microblading procedure is done clumsily, clients will end up with patchy or infected eyebrows – no one wants that!
It is important to choose a qualified microblading technician to carry out your semi-permanent tattoo, as stated in the name, it will be on your face semi- permanently. You don't want to be walking around with bad eyebrows for the next 6 months and longer!
Here at Ray Cochrane, our Laser, Beauty and Microblading tutor Eleonora Androva has been in the beauty industry for over 14 years, specialising in beauty, skin and cosmetic procedures.
Eleonora, an industry expert who runs one of the most successful boutique clinics in London, Dermacure and is here to answer all your microblading questions.
So put down your tweezers and let's get stuck in!
Does Microblading Hurt?
A popular question is, does it hurt? The idea of lots of little needles scratching your skin doesn't sound appealing. Firstly, an anaesthetic/numbing cream is applied to the area before the tattooing process begins. This process usually lasts about 40 minutes allowing the skin to become numb.
When the microblading process starts your skin will officially be numb so there is no severe pain, rather you might feel a slight discomfort. We must mention that everyone's pain tolerance is different but beauty is pain after all, right?
How Long Does Microblading Take?
Your appointment may last between 1 ½ to 3 hours. Depending on where you go, you'll either be offered a consultation prior to your actual appointment OR your consultation will be included in the initial part of your appointment.
Your microblading technician will discuss your eyebrow goals, lifestyle, current shape and any problems you wish to address before advising you toward the best options.
Your actual microblading appointment will consist of the technician:
Cleaning your brow area. 
Mapping out and penciling your new eyebrow shape.
Applying topical anesthetic cream.
Filling out the appropriate paperwork
Informing you of the proper aftercare.
Once all these steps have been completed the tattooing process will begin – usually taking around 1 hour depending on your requirements.
How Long is the Healing Process?
Fortunately, with microblading there is no downtime!
Your new brows will be darker than the colour agreed upon right after your appointment but don't panic, this is totally normal! Brows will usually fade from this stage leaving you with your desired colour and shading.
As with any tattoo, you'll notice scabbing and peeling in the days that follow, it's imperative not to pick these scabs as it may harm the skin and outcome of the microbladed area. As your new brows heal they will gradually lighten, and around the two week mark you may notice a milky, translucent quality to them. Again, this is a normal part of the healing procedure and your true brow pigment will come forward around the 4 weeks to 1 month mark.
Voila, say hello to thicker, natural-looking eyebrows!
Why Choose Dermacure To Get Your Microblading Treatments in London?
If you are looking for the best clinic to carry out your Microblading treatment in London, then Dermacure is the clinic for you! 
As the director of Dermacure, Eleonora combines her knowledge of correct beauty procedures with the latest technological advancements. Ensuring that the microblading tattoos are carried out to the client's satisfaction with realistic hair-like strokes.
A thorough consultation is carried out beforehand to check your hair volume, colour and shape. We will then work with you to decide the right eyebrow shape for you with an eyebrow pencil first to allow for any changes to be made, until we find your perfect shape. Only when you are happy with the look will the treatment begin.
The priority at Dermacure is client satisfaction and Eleonora has filled London with many pleased customers. Check out the reviews here!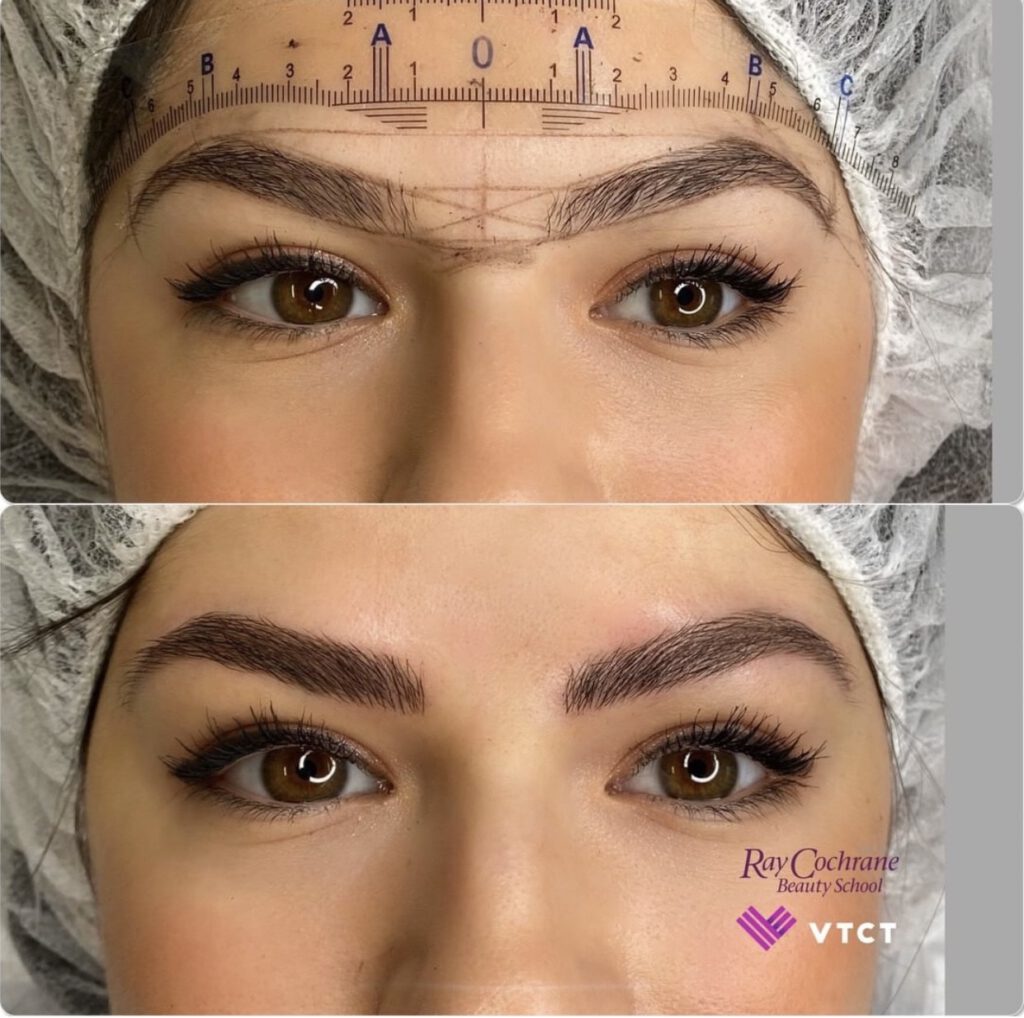 How To Become a Microblading Tech?
Are you interested in becoming a microblading technician and increasing your income revenue?
Here at Ray Cochrane, we offer a VTCT Level 4 Certificate in Microblading/Nanoblading Course taught by Eleonora herself! 
As a CIDESCO and CIBTAC qualified beauty therapist, she has studied numerous microblading courses and even a masterclass with one of the world's leading microblading experts, guaranteeing her knowledge on successful microblading treatments. 
The microblading course will teach you everything you need to know until you are ready to perform professional microblading treatments. Eleonora is also our lead Internal Quality Assurance at Ray Cochrane so you can rest assured that your training is of the highest standard setting you apart in a highly profitable industry.
Call us on 0203 856 8886 to find out more and to enroll.