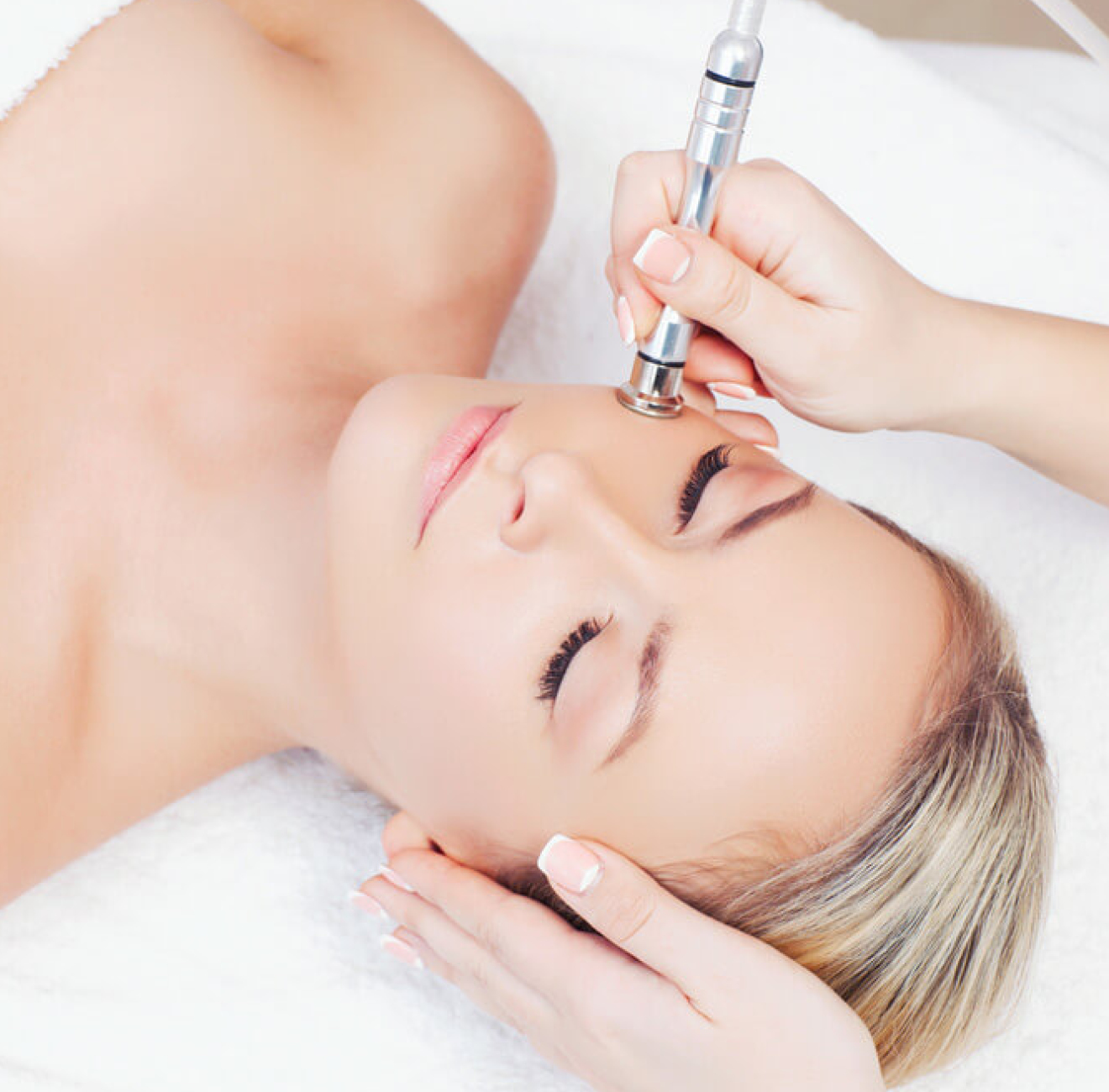 What is Microdermabrasion ?
Our Dimond Microdermabrasion is deep exfoliation treatment,  which is ideal for those who don't have big skin concerns and would like to maintain their glowing skin texture keeping it fresh, smooth and blemishes free. It improves the overall skin condition. Course of at least 3 treatments is required to see a result. During this procedure, a diamond tipped hand piece will be used to gently remove the dead cells and debris on the outer layer of your skin, leaving smoother, cleaner, brighter skin.
Microdermabrasion treatment is most commonly performed on Face, Neck and Chest area.
Microdermabrasion can assist with…
– Pigmentation
– Scarring
– Ageing
– Wrinkles and fine lines
– Sun damaged skin
– Dull or uneven skin tone
– Rough skin
Why Choose Microdermabrasion?
The Diamond Microdermabrasion can help any client who need brighter, smoother, youthful skin.  If you wish to achieve that natural healthy glowing skin, then this treatment is for you.
Is Microdermabrasion for Me?
It is suitable for almost everyone. It doesn't require  downtime 
About the Treatment
Microdermabrasion Dimond Tip  is applied onto the skin and  with the help of Vacuum suction gliding technique,  the  dead cells are exfoliated, leaving the healthier new cells to come quicker to the surface of the skin.  On the other side the natural healing process of the body speeds up the cell turnover, which gives  the skin that fresh look.  We recommend course of at least 3 treatments in 3 to 4 weeks interval. Following that course of treatments you can have Microdermabrasion done every 2 to 3 months to maintain the result. 
Prices
| Treatments | x1                                                                                         | |  Time |
| --- | --- | --- | --- |
| Face | £55 | | 30 minutes |
| Neck | £45 | | 30 minutes |
| Face + Chest | £85 | | 45 minutes |
|  Face + Neck | £85 | | 45 minutes |
| Face + Neck + Chest | £115 | | 60 minutes |
essions
Approximately 30 to 60 minutes
Effects will show 7 days later
Going back to normal as soon as you finish with your treatment. You can experience redness and some dots of bruising. It it absolutely normal and will start disappearing withing few days. This very common on clients with sensitive skin.  You can apply make up 24 hours post treatment .  Application of an SPF minimum factor 30 is very important to avoid pigmentation.
The treatment final result will be seen after only one session but course of 3 is recommended. We combine Dimond Microdermabrasion with other Anti Agein treatments to achieve to most desire results.  Get in touch today for an informal chat about the treatment and work out whether it's the right procedure for you and your skin. Book your free consultation today.