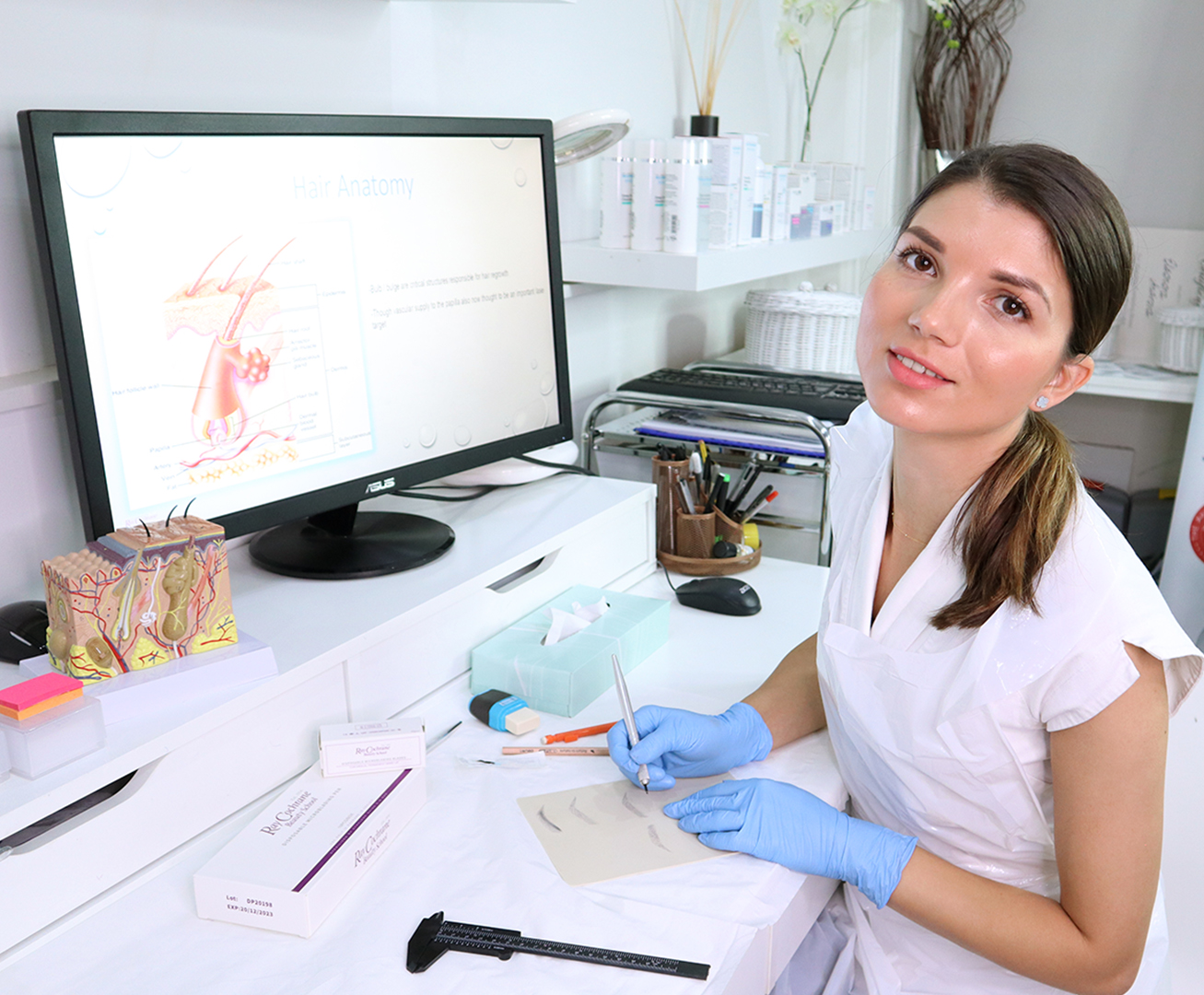 Hello, and welcome to my website!
My name is Eleonora, I'm a practicing aesthetician who has been in the Beauty and Aesthetic field for over 14 years now. I love my job and everything beauty-related.
Beauty has always been my passion, focusing heavily on the skin and skincare at the beginning of my career. I was eager to discover new areas and explore different technologies and products. My interest led me to gain more knowledge through the years, which piqued my attention to Aesthetics and Laser. Over the years, I have collected the most prestigious qualifications in Beauty, Aesthetics, and Laser.
Despite that, I have never stopped learning. I am always keeping up to date with the newest technology and products in the industry.
With this research and experience, I can revive my clients' confidence with a combination of new technology and the correct products. Clients at Dermacure are guaranteed long-lasting results once their treatment course is over.
I am also a Laser, Beauty, and Microblading Tutor, teaching aspiring beauticians to achieve their dream careers. As of 2015, My partner and I took over Ray Cochrane Beauty School and have managed to turn it into one of the top Beauty Schools in the UK!
Ray Cochrane Beauty School is now recognised as one of the busiest Laser Training Centres in the UK by VTCT.
Dermacure Clinic promises that every treatment is bespoke, designed specifically for your skin concerns, after your thorough skin consultation.
If you need any further motivation to choose us for your next aesthetic treatments, then look no further than our numerous 5-star reviews!
With that, I assure you, you are in the best possible hands, and I can't wait to see the amazing results we can achieve together!
Eleonora
Clinic Founder
Google ⭐️⭐️⭐️⭐️⭐️
I came here for 2 skin resurfacing treatments and
and can say that both treatments really helped and gave me amazing results. Overall the service is brilliant, really friendly and lots of help and support is given during and after the treatment. I'll definitely be coming back for more treatments!
Google ⭐️⭐️⭐️⭐️⭐️
I have had my full body laser done here and i am very happy with the results. I would recommend the clinic and Elly who is very friendly and makes you feel comfortable.
Google ⭐️⭐️⭐️⭐️⭐️
I visited the clinic several weeks ago for eyebrows treatment. I'm very happy with the results. The person who did my microblading treatment was very kind and professional she explained all I need to know about the process.
If you need beauty treatment this is the place.
I highly recommend this clinic.